Make a donation
Your support helps us empower people with learning disabilities and their families. It helps them live the lives they want.
Your donation will make a real difference - whether it's used to provide training for Susy, one of our volunteer befrienders, to fund singing and acting sessions for Lucy, a young woman with Down's syndrome or to provide the help Joe's mum gets through our family support service.
Just send a cheque made payable to Eddie's with your name and contact details. If you are making a corporate donation, please include your organisation's name, address and an employee contact name. Please send all cheques to:
Eddie's
Lancaster House
Capper Road
Waterbeach, Cambridgeshire
CB25 9LY
Donate now
†
A safe and simple way of donating is to donate on line. Click on the Virgin Money Giving logo to make a secure donation.
†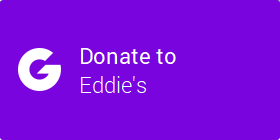 A safe and simple way of donating is to donate on line. Click on the Just Giving logo to make a secure donation.
Just a reminder that if you shop online, you can raise†a free cash donation with every purchase if you join www.TheGivingMachine.co.uk. Itís really simple, you enter your favourite shops via TheGivingMachine and a percentage of your shopping bill is converted into a cash donation for us, at no extra cost to you. With over 2,000 stores participating including Amazon, John Lewis and Tesco taking part, you can really help make a difference.
Set up a regular donation
Arranging to make a regular donation to Eddie's is easy - and you can be sure that your contribution will make a positive difference, no matter how much or little you can afford to give.
To set up a donation by standing order please complete this simple form.
Prefer to give by phone?
If you'd rather speak to someone about making a donation, call us on 01223 883130 (lines are open Monday to Friday, 9am - 5pm)
Gift aid
Why Gift Aid your donations?
You will help more people with learning disabilities at no extra cost
Boost your donations through tax-effective giving
Every penny counts
It's easy - just fill in a simple form
Increase your donation without spending a penny extra
Did you know that you could help us support people with learning disabilities without spending a penny extra? This is because the government's Gift Aid scheme allows us to reclaim tax on donations since April 2000 and into the future. That means that for every £1 you give to Eddie's, we can now reclaim 28p from the tax man. Even though that may only seem like a small amount, you will be surprised how it all adds up if most people do it.
There's no extra cost to you - all you have to do is fill our Gift Aid Declaration
Want to become a fundraiser for us?